I am a big believer in bartering skills.  I am quite happy to pay for a service, but its nice when someone values my skills, as much as I value theirs, and is willing to swap.
I had a quilting project that I wanted done  (details to come at a later date), that I was quite willing to pay for.  My friend is a professional quilter, and to me a stunning artist. But, she is very time poor.  I appreciate that while she is a talented seamstress, she just doesn't have the time to devote to putting together an outfit of clothes.  Sewing clothing is a slow process; the nature of the fabrics mean that you can't rush.  So I offered to make her some clothing pieces, in exchange for the quilting project.  I do think I got the better end of the deal.
The fabric she gave me, was a very fine houndstooth pattern wool, stunningly soft, in hot pink, orange and cream.  She had cut out the panels (the pattern supplied was a 6 gore skirt), and supplied piping in hot pink.
I inserted a standard dress zip, as I felt an invisible zip may give under pressure.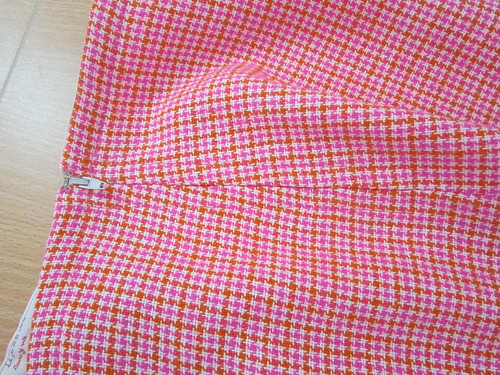 The hot pink piping was inserted between the front and back gores. Primarily this was to avoid the hassle of trying to match the very small pattern. Because I inserted a lining, I used twill tape on the waist seam. I could have used the lining as the waist treatment, but I was aware that without something to grip, the skirt would be prone to spin around the body.
But, I have an issue with the fact that with such a vibrate fabric, there will be a danger of creating an orphan. Without something to match, the skirt is at risk of hanging in the wardrobe, and not getting worn. I picked up a beautiful thick burnt orange cotton/lycra, and cream cotton drill. Using the same pattern (sorry forgot to note the pattern number) I made a matching tunic, and a short jacket.
Considering the busyness of the skirt, the plain rich colours are a good offset. Thank you Raylee, for the opportunity to sew for you.